PSHE and RSE
Intent
Our intent here at Meadowside Academy is for the empowerment of all children to grow to be happy, healthy, safe and active members of society.
To put in place the key building blocks of healthy, respectful relationships, focusing on family and friendships, in all contexts, including online.

To provide children with an essential understanding of how to be healthy. Teaching about mental wellbeing is central to these subjects, especially as a priority for parents is their children's happiness. We know that children and young people are increasingly experiencing challenges, and that young people are at particular risk of feeling lonely.

The new subject content taught will give them the knowledge and capability to take care of themselves and receive support if problems arise.

Content taught support s the wider work of schools in helping to foster pupil wellbeing and develop resilience and character that we know are fundamental to pupils being happy, successful and productive members of society.

Promote and model our school values and Curriculum drivers of 'Relationships and Kindness, Respect, Resilience, Reflection and Resourcefulness'.
Implementation
At Meadowside our delivery of PSHE and RSE lessons is supported and scaffolded through the Jigsaw Scheme of learning. This supports staff to deliver a high quality, progressive and appropriate sequence of lessons.
Identifying regular opportunities to model, revisit routines and expectations of behaviour and learning, through an understanding of the social emotional needs of all children. In particular, we will ensure all staff have an understanding of the impact of home learning, family dynamics/circumstances, lack of space and/or nutrition to children's learning and progress.
Identifying opportunities to enable the development of key competencies – independence as learners, self-regulation, critical thinking, perseverance (pace of cognitive learning) and creation of deep learning experiences. These are essential to develop the behaviour for learning and expectations. We will ensure that the provision within classrooms enables flexibility for children to adapt to being back at school or a new classroom layout.
Provision of regular opportunities for purposeful talk to enhance learning, where all voices are valued (important when introducing and practising new vocabulary)
Planning of opportunities on a daily basis for children to express their feelings and thoughts to enable them to reconnect with school and classroom learning and embed a culture of engagement learning.
Ensuring that PSHCE continues to be a focus, with lots of opportunities for circle time, feeling check ins and/or reflection time.
All staff are relentlessly united in working to remove the stigma of talking about Mental Health. In this, all members of staff will model positive use of language relating to mental health and wellbeing. Any negative use should be addressed at the point of use (or as soon after as possible) to ascertain why it has been used and what other words or phrases might have been more suitable.
Impact
Pupils' believe that they can achieve goals, both academic and personal; to stick to tasks that will help them achieve those goals, even when the reward may be distant or uncertain; and to recover from knocks and challenging periods in their lives."

Children know how to be safe and healthy, and how to manage their academic, personal and social lives in a positive way.
Policy and Key Documents
The Outline below maps the long term plan for PSHE and RSE at Meadowside and when key milestones in RSE are taught:
Please click here to access our long term plan curriculum plans linked to our big ideas
Emotional Check In's
Each class has an interactive Emotional Barometer as detailed in 'Meadowside Academy Learning Environments'. Here every child will have the opportunity to check-in twice a day selecting 'Great, 'Good' or 'Need Help' as self-perceived. From this, check-ins from an adult in class can then take place to ascertain how we can further support these children.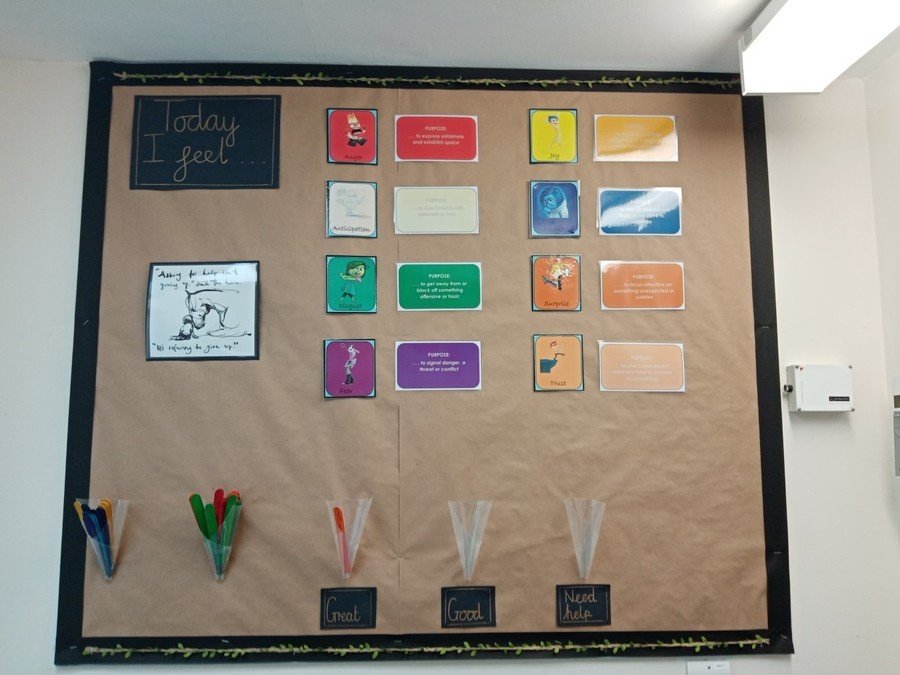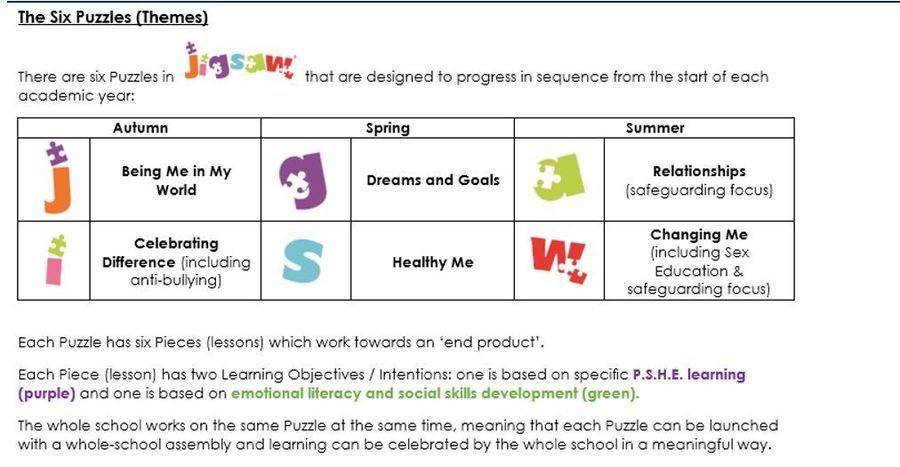 Lessons follow a clear structure and build in time for calming, quiet reflection, thoughtful discussion, solving puzzles and responding to problems. There are also lots of opportunities for singing, sharing ideas and working together. Each class has it's own Jigsaw character to support in their learning and help scaffold conversations and communicate their emotions.