Elevate Curriculum
As staff we have given careful consideration to our children; their experiences and have developed a curriculum that caters for them individually. This has been achieved through implementing the Elevate Trust's Curriculum Framework that was produced in a draft form for January 2023. The implementation of the Elevate curriculum has been planned to enhance the previous school curriculum's strengths that had been developed in 2021. The main principles of the Elevate Curriculum is to ensure the school has:
A progressive and well-sequenced curriculum

A progression model based on the National Curriculum as a minimum expectation – helping to deliver a knowledge rich and challenging curriculum to all children within Elevate Multi-Academy Trust fidelity of each subject's knowledge, skills and vocabulary.
The vision of curriculum provision delivered at Meadowside ensures that we constantly review the strengths of the units of study, we improve the areas for development and adapt the knowledge, skills and learning to meet the needs of our children and our community.
Our curriculum build:
When designing our progressive curriculum that is delivered in school, we wanted to ensure it was built around knowledge, skills and experiences. Threaded through this was the desire to have diversity and our locality embedded in what the children learn and experience. Ensuring this curriculum serves our children and our community, we sought the input on children, staff, governors and parents.
Our Elevate Curriculum intent: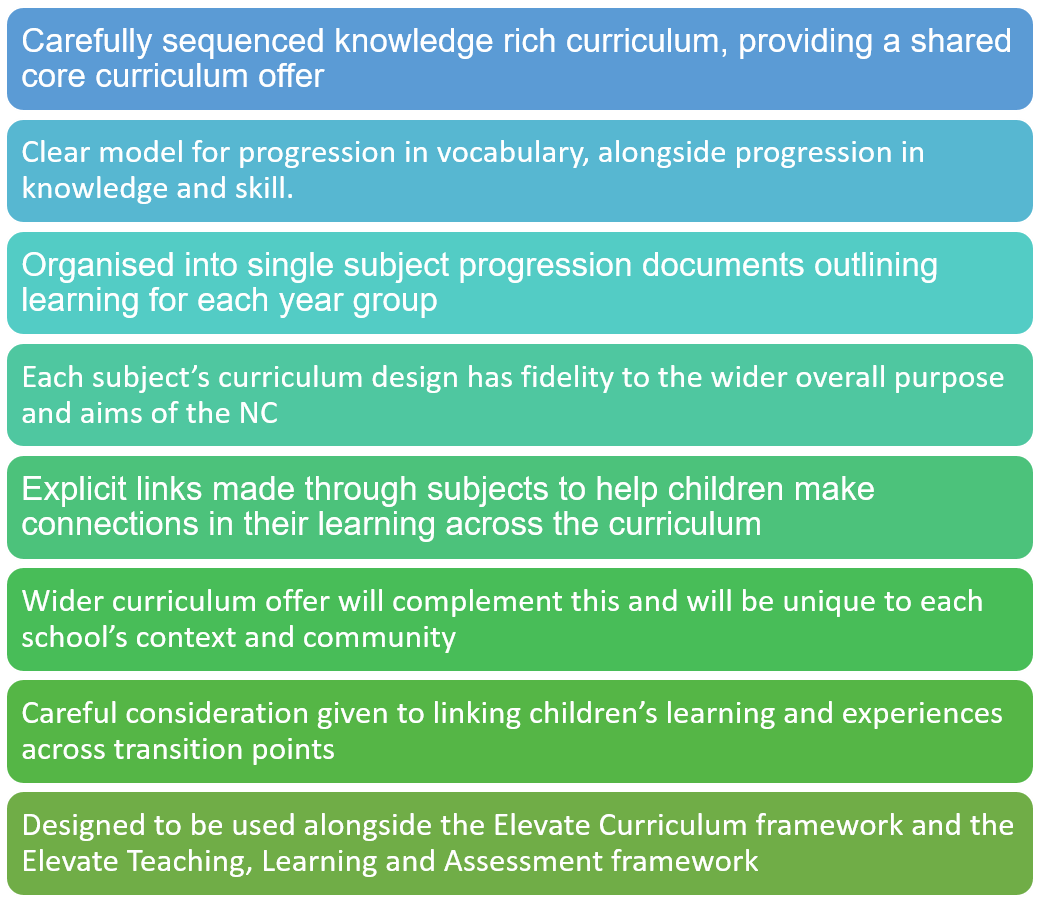 Our curriculum is implemented through subjects taught discretely and subjects that are interwoven to create cross curricular themes. This combination aims to inspire and excite children about new learning.
All of the learning at Meadowside is triangulated through
Elevate's High Impact Teaching and Learning

Principles:

Everyone ready to learn - Adults and teachers are prepared to succeed in every lesson and learning experience
Learning that is intentionally planned, delivered and evaluated - Teachers and TAs understand 'why', 'how' and 'what' they want every child to learn
Explicit and ambitious expectations - Everyone has the highest expectations in everything they do
Variation of strategies - Teachers and TAs use agreed effective and research based strategies
Activating higher order thinking - Opportunities planned for children to: explain; question; reinforce; and embed their learning
Targeted high quality feedback - Evidence based feedback strategies that maximise learning
Explicitly developing metacognition - Deliberately teaching and developing learning behaviours and attitudes

Assessment for Learning through the Keep Up Not Catch Up Approach to ensure no child falls behind age related expectations
The content for learning provided by The Early Years Foundation Stage Curriculum and The National Curriculum
We triangulate these principles to allow our children the best opportunity to remember our curriculum in both the short and long term.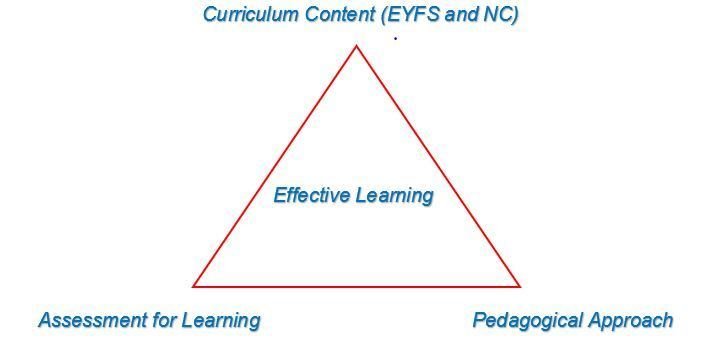 At Meadowside Academy, we implement our learning through units of study that are designed to challenge and extend the children, with careful thought being given to current local, national and global issues, The implementation of our curriculum allows themes and current affairs to be brought into topics so that we ensure a progressive and fluid curriculum to be delivered.
Our curriculum content starts with the Early Years Foundation Curriculum ensuring our children are working towards the Early Learning Goals. We then build on this through the Primary National Curriculum programmes of study for Years 1-6. The progressive continuum of skills, knowledge and vocabulary ensures pupils are challenged appropriately. The learning sequence is skilfully planned building on prior knowledge, skills, experiences and engaging texts to progress learning effectively. The implementation of our learning sequence follows Elevate's High Impact Teaching and Learning Principles. This combination of low stake quizzes, topic based learning reviews, end of topic reviews and a coherent sequence of learning improves working memory techniques, so that children know more and remember more.
The new Elevate Curriculum (from January 2023) is designed for subjects to be taught discretely with interconnection woven in when appropriate to enhance knowledge, skills and vocabulary. Subject leaders ensure long term plans and medium term plans are in place and that objectives are planned and sequenced for progression.
Please go to the Curriculum Overview tab to find out more about the Curriculum at Meadowside Academy.