Mathematics
Mathematics is important in everyday life, allowing us to make sense of the world around us. It gives us confidence in dealing with number and in understanding shape, position and movement. It enables us to think abstractly, mode real-life situations and make generalisations, and equips us with the skills we need to interpret and analyse information, assess risk and make informed decisions. Learning mathematics gives pupils access to the wider curriculum and further encourages a mindset to 'learn for life'.
Intent
To develop a positive attitude to maths as an interesting and attractive subject in which all children gain success and pleasure.

To develop mathematical understanding through creative and inspiring teaching of appropriate learning objectives.

To encourage the effective use of maths as a tool in a wide range of activities within and out of school and subsequently, adult life.

To develop the ability to express themselves fluently. To talk about the subject with assurance, using the correct mathematical language and vocabulary.

To develop an appreciation of relationships within maths.

To develop the ability to think clearly and logically with independence of thought and flexibility of mind.

To enhance mathematical skills and knowledge and quick recall of basic facts.
Implementation
All staff follow a consistent approach in their delivery and presentation in books. Monitoring.
Greater Depth opportunities identified
Individual pupil targets are set across school. Year 3 intervention programme
To improve children's ability in key recall facts
Promote mathematical oracy
Live lessons delivered. Recorded inputs. Drop in clinics. Work submitted and feedback given.
Lockdown – Children tracked / interventions & KUNCU strategies used
Curriculum Change across school. Focus on mathematical foundations.
Impact
Consistent approach embedded across school
Increase children engagement and growing GD
Establishing a consistent, impactful and monitored approach to the delivery of times tables and key recall facts across school.
Progression monitored in Year 3. EYFS oracy improving
Meadowside Mathematical Approach
Maths at Meadowside sets out to develop logical reasoning, analysis, problem solving skills and the ability to think in abstract ways, as well as offering opportunities for creativity. Our approach follows four steps focusing on the key elements in the National Curriculum.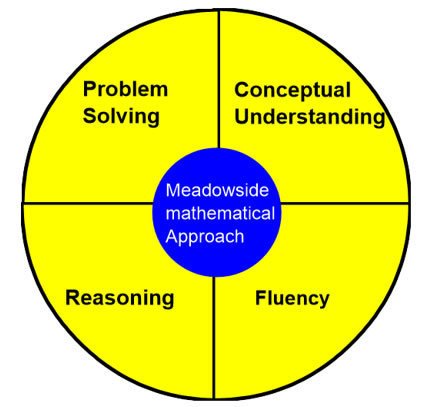 Conceptual understanding: to enable the children to comprehend mathematical concepts, operations and relations.
Fluency: To build on this knowledge by performing daily arithmetic calculations flexibly, accurately, efficiently and appropriately.
Reasoning: To cement conceptual understanding and fluency by applying their knowledge and proving / justifying their answers.
Problem Solving: To extend their knowledge of the topic by encompassing all aspects in order to solve problems on the topic.
Maths at Meadowside
Across the school, in all the classrooms, the maths follows the same format:
Early Bird Maths

Maths in Minutes

Maths Input

Independent Work
Early Bird
Is completed every morning, across the classrooms, when the children first come into school. A fluency element; consolidating and reinforcing arithmetic abilities.
Maths in Minutes
A focus on vocalising maths, high octane and fun: mathematical rhymes, songs, counting and mnemonics to help cement key laws, rules in maths.
Maths Input
Explanation and modelling of today's topic. Working together to agree and organise the 'success criteria' required for the independent work ahead. Success criteria is clearly displayed on the working walls to help aid independent learning.
Independent Work
Children self-select their level of difficulty and independently tackle reasoning and problem solving questions on their specific maths topic.
Working Walls
Working walls are a key element to independent learning at Meadowside. They allow pupils to be involved and responsible for their learning.
Features of the working wall:
Conceptual: related vocabulary, pictorial and written representations of the specific topic
Fluency: working examples of fluency questions in the specific topic alongside success criteria required to solve the problem.
Reasoning Stems: 'I know this because' writing stems which enable the children to explain their reasoning working to the end goal of justifying their reasoning.
Reasoning / Problem Solving: working examples of reasoning / problem solving questions on the specific topic alongside success criteria required to solve the problem.
WAGOLL: 'What a good one looks like' will demonstrate an example of maths work produced by the children, which highlights the expected standard of presentation/learning.
Stickability: Information related to the children's learning for that day or consolidation purposes that the teachers want to 'stick' in their heads to help them with their learning.
Please find below helpful documents including our yearly sequencing and progression map documents